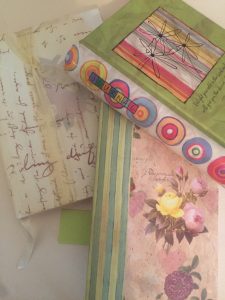 NaNoWriMo has been part of our family vocabulary since 2009 when two of our sons, ages 12 and 15, each wrote 50K+ novels while schooling from home. I was finishing an M.A. in Lit./Writing at the time, with no spare moments to craft a novel, which made me envious. Since then I've done NaNo off and on with limited success (and created a version for memoir- MaMoMeMo- May is Motherhood Memoir Month… http://mamomemo.com/2018/04/welcome/, a place where you set your own goals…).
None of the novel messes I've generated during NaNo have become what I'd call a finished novel; think of a ball of yarn, 50K yards of it, in need of serious untangling. It's easier to start fresh with new material.
When I'm a slave to word count, I churn out an ugly mess, though I do make some interesting discoveries. And I hone the habit of putting words on paper, removing some of the mess from my mind. I write first drafts by hand, in spiral-bound notebooks; and because it makes me happy, I write with refillable gel pens, in purple.
Last year, during NaNo, I wrote what I like to call a novel memoir. I was already working on it and didn't want to abandon it for a new project. I wanted to make NaNo work for me and not give in to the tyranny of the word count.
This year I've got a work-in-progress and will use NaNo to shape it up, in the hope that I'll be able to weave together all this writing into cohesive scenes and chapters that I can call a great novel. Or a good novel. Or a finished novel. Shoot high- you can always lower the bar later if needed.
I love writing by hand in notebooks, but that didn't work well for Nano, until last year when they changed how the word count was validated. Mary Adkin's (author of When You Read This and Privileged) uses a 4-notebook method, creating a handwritten first draft. She gives an easy way to figure word count by counting your words per page and multiplying your pages per notebook, writing on only one side of the page. But more important, she thinks in terms of scenes. The average novel, she says, has about 90 scenes, and is close to 60K words. That means 2K words per day; each scene averages 700 words, so writing three scenes per day gives you about 2100 words- perfect! And it almost sounds easy, right? Until you start to run out of scenes…
Thinking in terms of scenes over words has several advantages. Novels are made up of scenes and chapters, not just words. I'm better off focusing on scenes over a word count. When I go to bed at night I try to think of three scenes I want to write the next day; then I let my mind work on the problem- what happens in those scenes?
I like Robert Olen Butler's method of creating an organic structure from his book From Where You Dream. Butler reduces scenes to what happens and one sensory detail- then writes only that on a 3×5 card. He spends about six seeks "dream storming" first thing in the morning to access the creative subconscious before it fills up with practical matters–all before ever writing any of the novel. The beauty of the index cards is that they can be rearranged in any order that makes sense for the story, and that by doing this before you begin, you save yourself some of the excruciating parts of revision, like starting over because you didn't really know what the story was until you got very far into it…
I like this idea, but am using it to try and save a novel I've already begun. I'm always in a hurry to start writing- Let the chaos begin!
I tend to use bits and pieces of ideas, melding them to make my own method rather than strictly following one idea. This could be my downfall, or it could be where my own brilliance, should it exist, will show itself.
So I've got a table covered with 3×5 cards, and I've got my notebooks that I've filled with words that now need to be transcribed onto the computer. For this, I use Scrivener (thanks to 2018's Nano prize being 50% off Scrivener, which is a bargain at twice the price). And I've got my 2017 Nano failed attempt–I wrote about 8K words, most of which I've either revised or tossed.
So, my Nano goal is to write 1000+ words per day in my notebook or on the computer (from my scene cards and prompts), while weaving in what I've got in my notebooks (another 1000 words per day)–the story has changed so much since I wrote it that I find much of it doesn't work, but there are some good moments, or phrases, or ideas.
This plan should work well for the novel I'm working on since it takes place in two different times, and I've mostly focused on the past events in what I've written so far. I can see through to the end of the dark tunnel now, and I'm embracing this tunnel with intense vision, but also ready to have fun–on my terms.
How about you? How will you make Nano work for you? You have your own unique bag of tricks and can do it any way you want. Just do it.