Hi,  I'm Lori Lyn Greenstone, writer, artist, and mother of six humans spread in age across a quarter century— three daughters, each born in a different decade, and three sons—but all six have the same father who I call "the hub" for his supportive skills helping to hold us all together.
Ekphrastic Mama started out as part of my Masters thesis, later published as a chapter in the anthology Mothers Creating/Writing Lives: Motherhood Memoir by Demeter Press (with my art on the cover). In that essay I explored my current circumstances; with one child married, one in college, one in high school, one in junior high, an elementary schooler, a toddler, and a new grand baby, I experienced all phases of motherhood simultaneously.
I thought we were done having children when I applied to grad school for an M.A. in Lit./Writing, Our oldest daughter was married and trying to get pregnant when I found I was pregnant with our sixth child. I was 46. In answer to three common questions: we're not Catholic or Mormon, and we believe in birth control. It doesn't always work. At the time, we had an organic blueberry farm; it's possible that anti-oxidants override contraceptives, even when you're old. We call our youngest the blueberry baby (see mamomemo.com for more on that story).
Ekphrasis, Greek for art that speaks out, became a tool, allowing my art background to illuminate my desire to write. This blog explores the space between art and writing, showing how these two creative endeavors foster each other and contribute to a more adventurous life as a writer/mother. I hope to inspire and foster the creativity and joy needed for the journey.
Even if you aren't a mother, you still have a motherhood story, the story that helped shaped you. Writing enables us to understand our own story better, and to see the unseen things. I invite you to join me in this sojourn. —Lori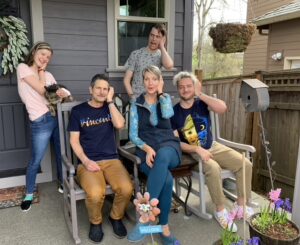 Lori lives in Washington with her hub of 40+ years and their youngest daughter (shown here along with two youngest sons).
  I didn't plan my pregnancies. I'm an experimentalist. –Alice Notley
Once a year, during May, I focus on motherhood memoir: May is Motherhood Memoir Month–you don't have to be a mother to have a motherhood story– it's where you begin. We've all been shaped by the story, and writing helps us understand our own stories better. Come join the sojourn. During May you can also join me at MaMoMeMo.com to get prompts and pieces for Motherhood Memoir Month.