I am the mother of three daughters, each born in different decades, also three sons grouped in a somewhat closer clump. One hub helps hold us all together. This is not what passes for wise family planning in our American culture, but I agree with the poet Alice Notley who wrote, "I didn't plan my pregnancies.  I'm an experimentalist."
In Mothers Creating/Writing Lives: Motherhood Memoir, I wrote about how the creative process changed after having children when life and creativity bogged down with chores and childcare. I eventually looked for ways to mix the creative with the mundane; musing while folding laundry leads to art and writing, but it isn't easy with six children spanning a quarter century. With one child married, one in college, one in high school, one in junior high, an elementary schooler, a toddler, and now a grandbaby, I had a moment where I realized I was experiencing all phases of motherhood simultaneously. Why not explore that?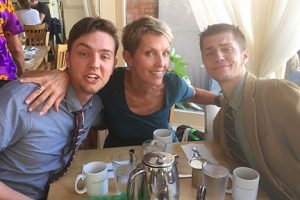 My life felt like one constant series of interruptions, but I felt determined to exploit the creative. Art seemed easier to continue with given the interruptions because it left me with a visual map showing me where left off (whereas writing felt more difficult when a thought was broken in on). When I was finally able to return to graduate school I drew on my background as an artist to employ ekphrasis (art that speaks out) as a writing technique paired with experimental methods to illuminate the liveliness contained in the mundane, specifically exploring how mothers can lead active, adventurous lives- writing fosters the creativity needed for the journey.
However, you don't have to be a mother to write about motherhood- all of us have been shaped by the story- it's where you begin. Thinking through writing helps us understand our own story better. You are invited to join the sojourn. I deem May as Motherhood Memoir Month- MaMoMeMo.com is an invitation to write along with me, get some personal encouragement, and enjoy the journey.
LoriLyn lives in Central Oregon with her one and only hub and their two youngest daughters (not pictured). She is currently taking a hiatus from teaching college writing in favor of a life balance that includes lots of outdoor time, working for REI, and family travel.