Ekphrasis is "art that speaks out" according to the Greeks. But how does art speak, and how might it help you write? Below is an example of a flash fiction piece that sprung from ekphrasis. Utilizing vivid description, ekphrasis forms an image in the mind of the reader or listener, a useful skill for both storytelling and speech. Spending time with a piece of art, looking at it closely, pondering the ways and why's of its creation not only leads to inspiration, but also interesting narratives and essays.

If you want to try it, take a painting, sculpture, photo, or anything you see as art and begin studying it. Just spend time observing and asking what the story might be. I like to do this early in the morning before I talk with anyone or engage with written work, while I'm still in something of dream state; I like to "dreamstorm" and jot notes. When I'm ready to write I may add a few random prompts, such as words or phrases.   (*dreamstorm is Robert Olen Butler's term in From Where You Dream)

Gifts Bestowed: Ekphrasis of the Schuffeneckers, arose from a painting by Paul Guaguin, and is based on an excerpt of my work-in-progress.
Gifts Bestowed (Ekphrasis of The Schuffeneckers)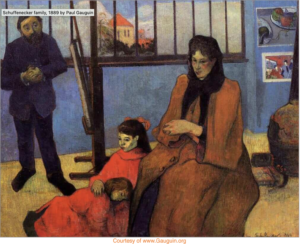 Louise Lançon, her name before marrying Emile Schuffenecker, appears as a woman waiting for a train, dressed for a cold journey, arms folded across her layered middle. In truth, she is poised, sitting for a family portrait on a bench in her husband's art studio, heading nowhere yet. Her long face holds a determined but blank stare, fixed on the bottom of the far wall. Her daughter clings close to her, afraid she'll be left behind if she blinks. At seven, Jeanne already mimics her mother's melancholy stare, as if she too envisions a future filled with helpless disappointment. The youngest child, Paul Gauguin's namesake, naps across his sister's lap.
The painting is a gift, Gauguin's attempt to compensate the Schuffeneckers for housing him again, here in Paris. Paul has fled Arles after the bloody ear incident with Vincent on the eve of Christmas eve. He arrived in time to attend the beheading of Prado, a man who slit the throats of his mistress, her maid, and her pubescent daughter. At sunrise on Dec. 28, 1888, in the moments before the blade fell, Prado wriggled out from under death's blow the first time. The blade scalped off an ear. Prado's scream shrieked through the gathered crowd until the blade rose again, and sliced down another time.
"Poor design," Paul opined, disappointed he wasn't tall enough to see Prado's head fall. Paul returned to Schuffenecker's studio to sculpt a jug from clay in the form of his own head, minus the ears, but with a crown of thorns. A glaze of blood drips down the sides. A self-portrait—Prado, Christ, and Vincent—sinner, saint, and artist icon—three in one. All Paul. A jug to drink from. O holy communion.
Paul loves to bestow gifts. The next day he buys a Polynesian doll for Jeannie in a shop near the new Eiffel Tower, built in anticipation of the Exposition Universelle. Nearby, Paul hopes to sell paintings in Cafe Voltaire to the world's people who will soon fill this City of Lights. Paul will stockpile his earnings to pay his way back to Tahiti. But for now, Paul shops on the street outside La Roquette where Prado lost his head, choosing for his young namesake one of the many toy guillotines for sale.
When the Schuffenecker children return from the holidays with their grandperes, they look over their newest gifts, each eyeing what the other has. Little Paul prefers the Polynesian doll, peeking under her dress, pulling off her hat. Jeanne asks to chop vegetables with the guillotine. Paul shows her how to sharpen the blade.
The next morning, young Paul's loud screams awaken the rest of the family. The headless doll lays on the guillotine. Her tiny feet and hands are missing too.
But the portrait must go on. Paul paints from memory and imagination, the preferences of a symbolist. He does not much need models except to work out an arrangement, the placing of family members in proximity to each other, which he has already drawn. The mother, her children on the bench beside her, her bottom bulk exaggerated, makes a powerful pyramid. Her hands clasp like claws, one hidden, or missing.
Off to the side, Paul paints "le bon Schuff," in the style of a Japanese wood-cut, his beard too thick and black, his neck hidden beneath a mandarin collar, his hands held in a futile gesture of obeisance.
Years ago, when his wife was still fresh, and their small children fed the birds nearby in Le Parc Luxembourg, Schuff also painted a portrait of his family. It still hangs upstairs. Schuff would like to sell it, but Louise won't part with the painting.
In Paul's portrait, an easel separates le bon Schuff from his family, the artist set apart. With one toe, Schuff reaches out, touching the outline of his young son, cloaked in red. Black bars on the window split up the sunny scene outside, imprisoning the family inside.
Paul puts a final dash of green on Jeanne's cheek. He paints her red collar so close to her head that her neck disappears. Likewise, little Paul, feigning sleep, looks lifeless and neckless. Louise sits upright, captive to a future history she cannot escape, in which the woman must be blamed. Rumor will say she betrayed her husband for the bohemian.
Paul paints a black scarf around her head and crosses it in an X where her neck should be.
https://www.wow-womenonwriting.com/downloads/printable/102-FE1-Fall21Contest-Lori-Lyn-Greenstone.html
Lori's Bio:
Lori Lyn Greenstone/Ekphrastic Mama is a writer who prefers purple gel pens and builds life-size giraffes from driftwood, then blogs about how art teaches us to trust our creative process. You can see this and more of her writing and art history at Ekphrastic Mama.
Her art is on the cover of the anthology, Mothers Creating Writing Lives: Motherhood Memoir along with her chapter, "Ekphrastic Mama" inside. With one child married, one in college, one in high school, another in junior high, one in elementary school, a toddler, and a new grand baby—she experienced all phases of motherhood simultaneously, and lives to write about it. In her defense, she quotes beat poet Alice Notley: "I didn't plan my pregnancies. I'm an experimentalist."
Every May, Lori leads May is Motherhood Memoir Month—MaMoMeMo—taking writers on a wild ekphrastic ride where you don't have to be a mother to have a motherhood story—it's where you begin…
She is currently finishing a novel of historical surrealism, An Ear to Hear, the journal and sketchbook of the woman to whom van Gogh gifted his ear—a surreal act of ekphrasis; "Gifts Bestowed" sprang from this work.