Do you write a yearly letter? Part update, part family history, part lost art, here's ours for 2022:
One of our favorite pastimes is reading updates from friends and family during this season; it may only be the year's highlights and/or low points, but these letters keep us connected.
Our highlights often include time together traveling. France is on the top of our list since connecting with French cousins. This year Arielle and I went twice—in March we flew into Paris for a 5-day scavenger hunt of artist studios and cemeteries—research for the novel I'm writing about the woman to whom Van Gogh gave his cut-off ear. We stayed in Montparnasse at the same hotel where Paul Gauguin (an important character in the novel) lived and painted. Then we stayed in Montmartre near Theo and Vincent Van Gogh's apartment, and next door to Picasso's studio. Arielle began a novel on the cats of Montmartre Cemetery (Degas, Dumas, and others are buried there). All this on the way to a weekend writer's conference in Manchester, England. Then over to Amsterdam to visit the Van Gogh museum; art and family inspire most of our travels.
In early July, we spent a few days in Paris as a family, boating on the Seine and exploring historic neighborhoods along Saint-Martin's canal before taking a train to Dijon to be with our cousins, the Lagneau family. Always warm and welcoming, they arrange reunions and French feasts with extended family to further build relationships between our children and theirs that we hope might last generations. They also plan interesting outings, revealing more details about the life of John's grandfather who was billeted on the family farm during WWI in 1918. This time they took us to a small village in the Haute Marne region where a local architect privately curated the Marac Doughboy Museum, amassing an amazing array of military and personal items from attics, barns and chateaus he's remodeled. The Doughboys, who came to defend France, captured his imagination as a young boy digging up artifacts in fields near his home. John has been writing his grandfather's story, so to hold a saddle stamped with the markings of his grandfather's Field Artillery unit was an emotional highlight.
Scott planned to meet us in Dijon, but quarantining after a bout with Covid meant he met us later in Avignon. Amidst an art and theater festival in the streets of this beautiful city, we boarded a 25-passenger boat on the Rhône river. The four of us rode bikes with a fun group of Europeans and New Zealanders for a week, exploring small towns and historic sights as we made our way to the Mediterranean sea. We visited the places Van Gogh painted, including the asylum in Saint-Remy, and dined each night on delicious French cuisine aboard our floating hotel. Then we returned to Arles for a few days with the one brother (of six) we hadn't yet met, John's cousin, Didier, and his lovely partner, Deborah, an English academic. Didier and John are collaborating on a play about their childhood impressions of the grandfather from two different views—one who knew him, and the other, a French boy who could only imagine his American ancestor.
After a few days enjoying Arles, we took a train to Toulon where we stayed with cousins Marie, Jérome, and their two daughters (Arielle's age) on the French Riviera. Diving off rocks into the deep-blue Mediterranean was exhilarating— John swam into a huge sea cave where a television commercial was being filmed while he watched, treading water. Always eager to try new things, we later ate grilled octopus for dinner.
At the end of July we attempted heading home from Nice, but couldn't get a flight to the US, due to strikes and the pent-up travel demand. We tried both airports in Paris, then Brussels, and Amsterdam, (the downside of traveling stand-by). Three days, four countries, and seven airports later, we finally made it home; travel always makes you more appreciative of home, right?! … Back at home, Lily, our middle daughter, is engaged to her longtime boyfriend, Jordan Tritten, whom we love and welcome into our family. We are looking at wedding venues in the Columbia Gorge area (deep cut for our travel budget) for some time between next fall and the following summer.
The week of Thanksgiving, Glen, our oldest son, and his family came to visit. However, Covid hit us the week before, and by the time we tested negative, we had only two days with them. While we quarantined, they enjoyed exploring Portlandia with Andrew, Lily, Kelli, and Scott (who is now a radio journalist with the NPR affiliate in Seattle after 5 years with the Times; Callie writes speeches for the new Seattle Mayor). The picture, taken at a moment when we walked out front to greet our neighbors (the Vancouver fire chief and his wife, my walking buddy), catches a glimpse of the fun we have together. **From left, next to me—Glen, Ashley, Polly, Johnny, Lily, and Jordan; back row from right:
Arielle, Callie, Scott, a friend of Lily's, Andrew, and John.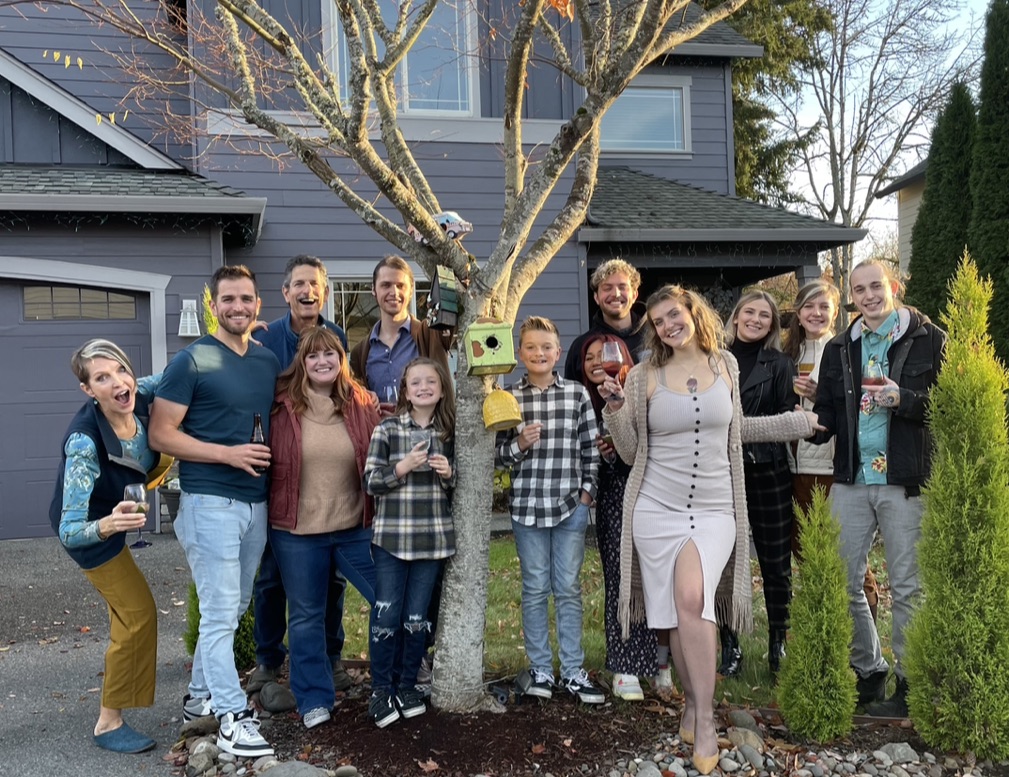 This Christmas, Scott is headed to Florida with Callie to visit her family. Andrew (now a medical translator-Spanish) is off to Reno to be with Rachel's family, and we are headed to Bend to ski and ice skate, but will return Christmas day for dinner with Lily and Jordan….Fun family gift- this week we put up a Tree Pod in the backyard, a 6' round hanging gazebo-like tent where we can hang out, suspended in the forest. It is Arielle's favorite new place to study.
Arielle continues to train and ice skate competitively, though it's been a challenging year with the workload at Camas High School. At fifteen, she is a sophomore this year, still in the Magnet STEM program. She also competes in Science Olympiad and was invited to Yale for a meet in February. Sophomore means "wise fool," she reminds me, still our cheerful, thoughtful, enjoyable girl.
We end this year feeling immensely blessed and looking forward to the coming year. Lord willing, I'll return to France in June for a writing retreat in Brittany with a Parisian friend at her family's chateau on the coast. Meanwhile, I'm fiercely studying French…We'd love to hear about your lives and what you are looking forward to in the new year.
May God bless you, with much love, the Greenstones