Our bees housed in Langstroth hives died in winter when we lived in Central Oregon where it gets cold and snowy. But now we live in the Columbia Gorge near Portland and I'm making quilt boxes for bees- me who does not quilt–luckily, no quilting involved.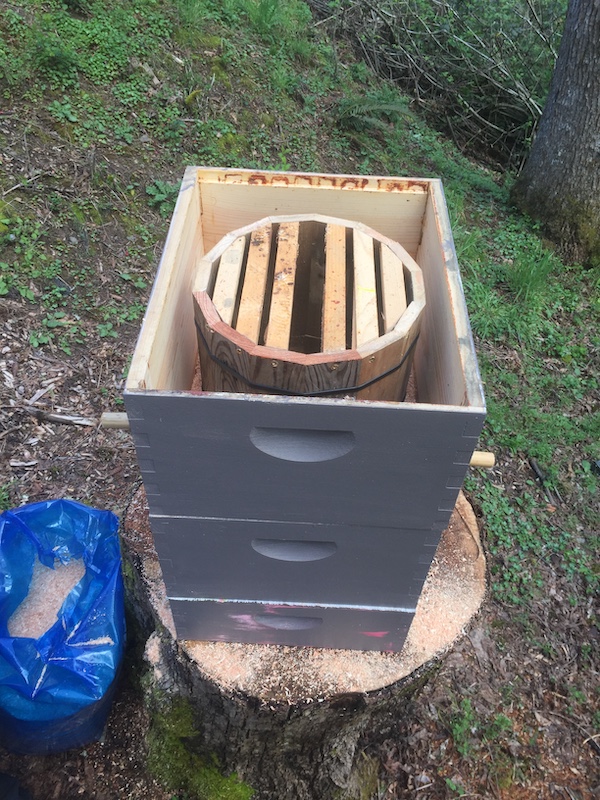 We live in Camas, Washington- soon to be designated a "Bee City, USA", the 3rd in the state, after Seattle and Puyallup. What a great place we've dropped into- https://www.beecityusa.org/current-bee-cities.html
But bee survival is still challenged here by wet weather and other factors. Our interest in bees was piqued by our middle daughter a few years ago when she asked for bees for her 16th birthday. We attended Glory Bee's beekeeping weekend event in Eugene. $1000 later we returned with bee boxes, bee suits, 16,000 bees, and a myriad of beekeeping paraphernalia. It turns out most of this stuff is unnecessary. And we now know bees swarm for free.
We hadn't planned on getting back into beekeeping when we moved here, but our local library hosted a two weekend workshop by Susan Knilans from the Beekeeping Preservation Council. By then our youngest daughter, age 11, was declaring her interest in saving bees, at the very least. She had helped her sister with the bees in Bend, until they all died, unable to keep themselves warm and cozy in the square wooden Langstroth boxes- difficult to keep warm with no insulation.
We decided to convert our Langstroth boxes into something more suitable, a design that might increase the bees odds of survival. Two hives worth of bees dying all at once was devastating to our middle daughter. She had painted the names of the Queens on the boxes and when they died, she spent a day singing dirges to them on her guitar. I know, it sounds dramatic, and it was. We did get some lovely honey, which I priced in my own pantry at about $250 a jar- not an experiment I wanted to repeat, but the value of a child's project is not always seen with immediate returns.
After the weekend workshop in Camas we joined the Preservation Beekeeping Council and began attending the most interesting and productive meetings. This month, we made a bait hive out of natural fiber planting pots, spraying them with swarm commander, hoping to attract bee swarms for our converted hives. Next month a pollinator plant and seed exchange is on the schedule. We've also had the opportunity to get involved with a mycelium research project, growing reishi and other mushrooms that may improve the bees natural immunity to the varroa mite which has been plaguing the bees. Research shows they have a natural defense against these pests and know how to overcome them if given the right environment and left alone, not fed chemicals that are often lethal to the bees but leave the healthiest mites to reproduce. We want to be part of this important research and will update you in future posts.
At these meetings we met fellow member Barry Malmanger who makes inserts to convert the Langstroth hives into more bee-friendly, insulated habitats. Bees like to keep their hives regulated to about 95 degrees, which can be a challenge during cold winters; in summer, bees cool the hive to the same temperature- lots of buzzing, winging and fanning involved. We want our new bees to survive, so we asked, Exactly how do you convert Langstroth boxes into happy hives for healthy bees?
All our friends at Bee club gave us helpful information, but we couldn't find much of it written down or illustrated, so we documented our project to share it.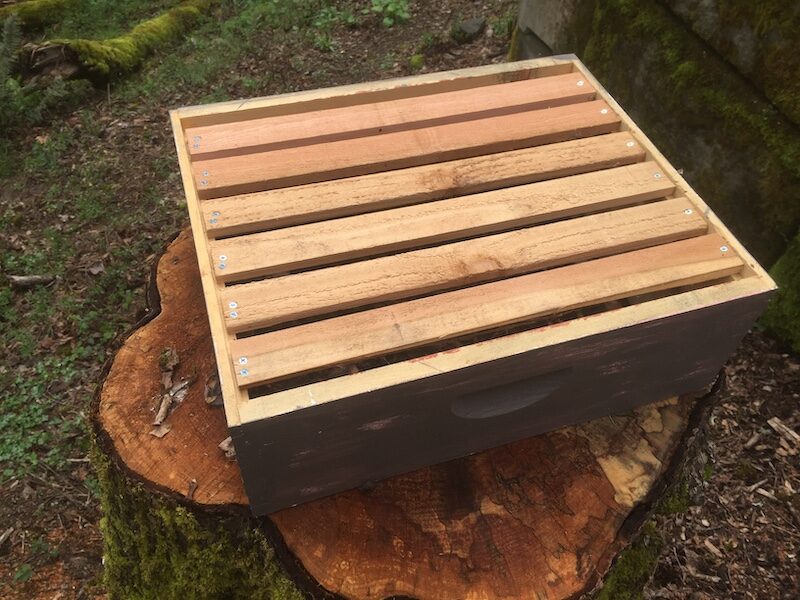 We began with a very tall stump from a tree we had removed in our backyard- forest. We made a leveling cut, then set our first layer, an eco-box on top of the stump. The eco-box was made from one of the shallower Langstroth boxes, fitted with slats secured with screws. Underneath this we put leaves from the forest floor. The next two boxes are deeper "supers". Instead of frames we put inserts that allow us to insulate around them and give the bees a rounded interior which bees prefer–easier to regulate temperature-wise. We rubbed old honey comb on the inside. Bees love to be where bees have been, and this gives the scent of bees and honey to attract a new hive.
Next we made holes for pieces of bamboo about 4″ up on one side and 6 " up on the other- we drilled them slightly smaller than the bamboo, then filed the holes slightly until we could put the bamboo through with a tight fit (no glue- toxic to bees). These provide entrances and exits for the bees and some air circulation the bees can control. We then filled the space between with shavings (Douglas fir or Pine work well; not Cedar)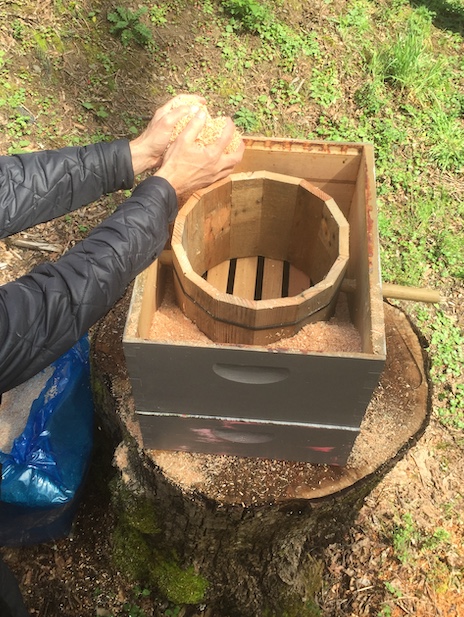 On the top of the next insert we installed bars for the bees to build honeycomb on. We used frames from our former bee hives–they have some honeycomb residue to entice the bees and get them going. We used the top as a pattern, cut the slats and fit them in, then screwed them into place (no glue). The middle is left open so we can put a quilt box with a mason jar on top…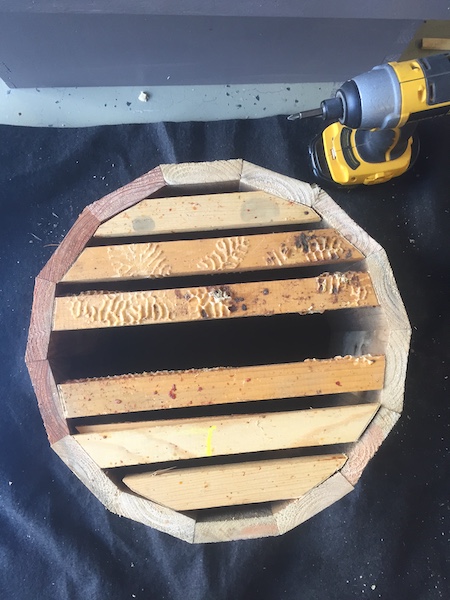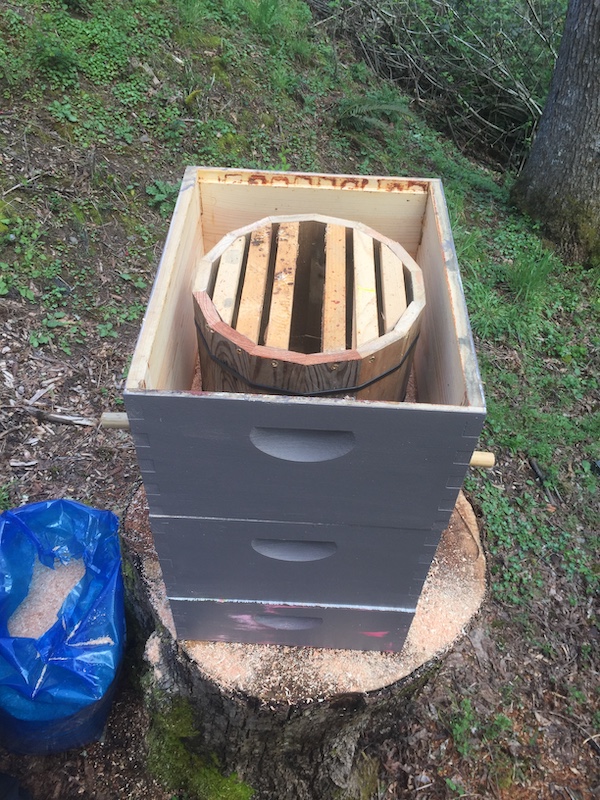 We stacked the inserts and the outer boxes together and filled the area between with more fir shavings. We swept up the debris from taking apart the old frames and put it inside the hive– again, this is to entice the bees. We also rubbed the rough wooden inner walls of the insert with some of the old comb.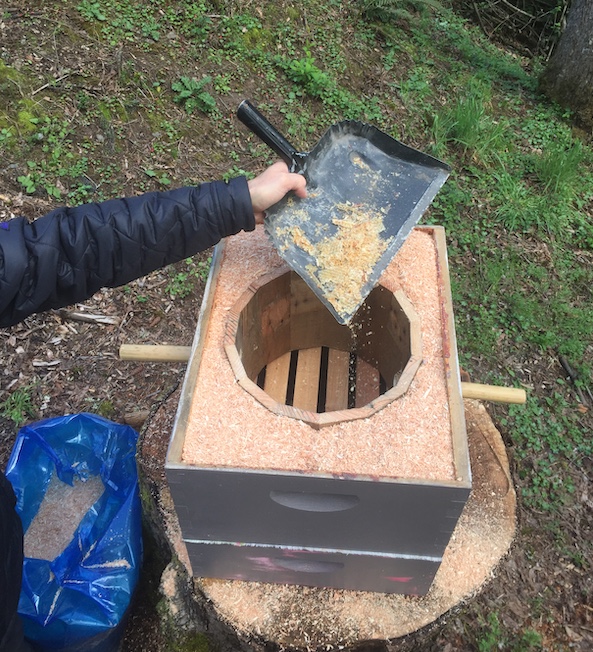 The next layer is the quilt box which will gather condensation from the hive and also insulate the top. We put slats on for supporting the fabric, an older canvas/cotton to keep the shavings supported.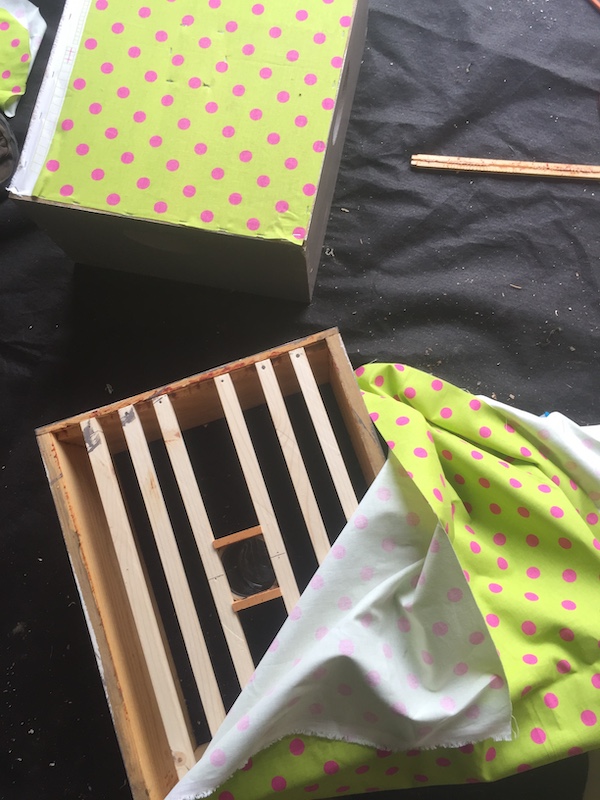 Bees like cotton and might chew through it, but they despise rye, so after stapling the fabric to the bottom of the quilt box, over the slats, we painted the fabric with a slurry of rye flour paste (about 2 parts water to one part rye flour). We attached a mason jar lid to the middle slats (using screws) for future honey collection; if and when the bees make enough honey to share- they will build up into the jar and we can remove and replace it, or cover the opening. We arranged the slats in a square around the jar lid for support, then stapled the fabric on and cut out a hole for the jar opening.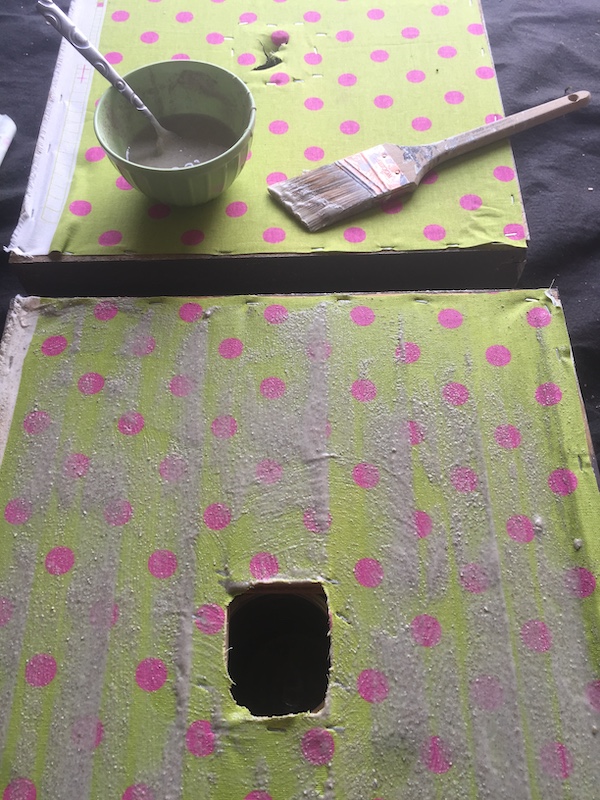 When the slurry is dry we turned the boxes over and filled bags with fir shavings, arranging them around the mason jar we screwed onto the lid we'd installed earlier.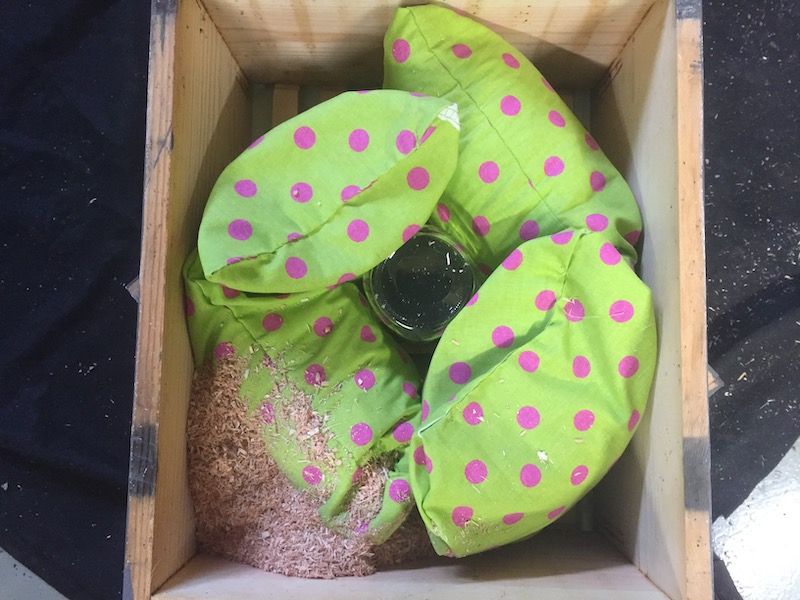 I sewed some bags and filled them with shavings; alternately you could use old rice bags or socks, anything you can fill with shavings and stack around the mason jar so that when you remove it, all the shavings don't fall down the hole. If the shavings get moist from all the condensation, the bags are easy to replace with dry ones.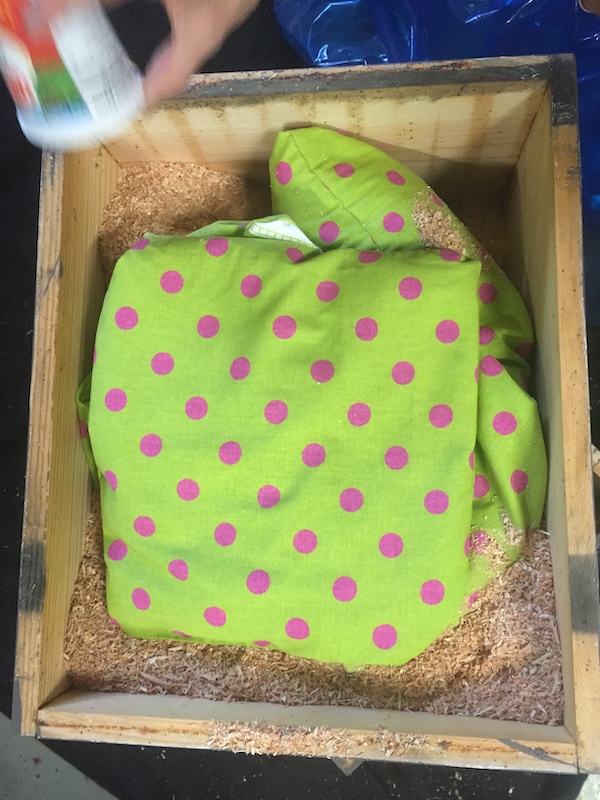 I filled the last bag loosely and set it on top of the mason jar, then filled in the areas around the bags with more shavings. I can now unscrew the jar if and when the bees fill it with honey comb, and then replace it with a new one or cover over the hole.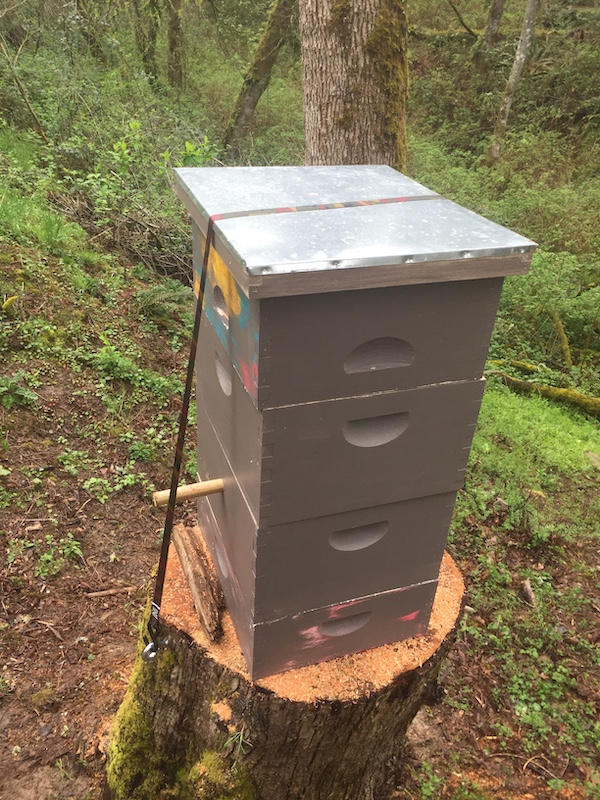 Finally, we set the roof on top and anchored the entire hive down by putting eye bolts into the stump and using a ratchet strap. This insures that wind or raccoons won't knock it over. I painted the hive with low VOC paint in a woodland color, but left some of our middle daughter's bright colors and designs showing through. And now we are ready for bees to inhabit our hives-may the swarms be with us!
Next time- I'll show you how we converted a downed tree into a hive.