In the mail today a gift arrived, wrapped and tied up with a silky ribbon, a leather-bound journal with a name on it—Lore. It differs from my given name by only one letter, but somehow this e in place of the i makes all the difference— Lore embossed in gold on soft, sumptuous leather so beautiful I'm afraid to write in it. A sea of fears swims beneath the act of writing.
I explore these fears, along with their attendants– procrastination and overwhelm– in my journals. How and why they persist this far into the journey makes for messy writing, but I'm making progress. However, I don't want to make a mess of this beautiful new journal.
Generally, I buy spiral-bound notebooks on clearance and cover their bright college-rule colors and info with bits of collage. Or I find cut-rate journals at stores like Home Goods and Ross so that I won't hesitate when it comes to writing in them. Let the writing be disorderly and poorly wrought, scribbles even—it doesn't matter—just get thoughts down, let them flow, sort them later.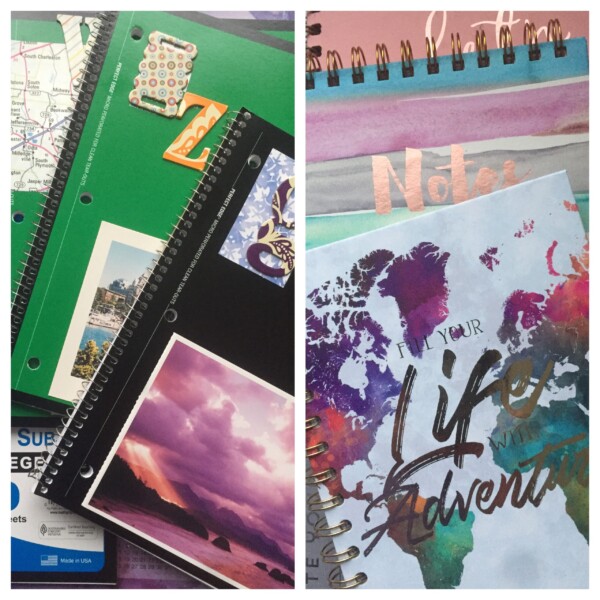 But this journal with its smooth cover and embossed name gives me pause, and makes me think I should be neater, refine my thoughts and do my best cursive with colorful gel pens, maybe even write an entire cohesive narrative.
And yet, I feel this journal, running my hand over the soft cover, as a humming echo ushering in a new epoch on the heels of a historic week here in America. The clouds have parted, revealing blue skies of new hope and possibility, leading me to finally feel ready to shed the extra weight that crept up with Covid–a convenient excuse… I often use a journal to record my habits of consumption; everything from food to wine, and larger goods, gets recorded and parsed in my journals. But these are not subjects worthy of going on fine paper between beautiful covers.

So what should go here? I don't want to save it for someday. I'm eager to write in it now, make my first mark, see what happens. But I have several journals to finish filling–six on my desk now, each with a slightly different purpose. Sometimes I forget what thoughts go where. But more important, I tell myself, is the act of writing— don't waste time looking for the right journal. Still, I like to keep eating habits separate from morning pages, and relationship journals separate from work on the novel I'm currently figuring out.

This journal is the perfect size to slip in my purse; it even comes with a lovely drawstring bag to keep it from getting dirty. But if I end up bagging this journal in my purse I'm afraid it's going to become scratch paper and shopping lists, unless I intentionally reserve it for something special. It feels like it should have its own story, its own lore.

Lore might be my pen name, so similar yet not quite the same name. I'm not sure yet–I just know I like the sound of it. It's what kids on my block called out after dinner waiting to see if I could come play, a nickname that falls on my ears like a myth or a tale. Embossed below Lore on the journal is Greenstone, my last name echoing it's emerald shade.

Life is story. We're all creating our own stories, with help from on high, and from coaches and mentors like Rhonda,* who sent this gift. This little leather-bound jewel comes to me now as my own personal treasure box to fill with my own lore, full of possibility.
Do you have a special journal just for your writing and living dreams? What will you write there today? You are filled with possibilities.
The journal came from Jenny Bick on Martha's Vineyard: … the right tool can elevate the experience and foster your creativity and productivity. The blank pages inside represent your untapped potential and your story yet to be written.